Photovoltaic Greenroof Systems
Due to the increasing relevance of renewable energy production on roofs of buildings' building integrated photovoltaic becomes more and more an important key role.
But currant solutions are immature – synergies have to be generated. Additionally in urban areas roofs are used miscellaneously as green roof, recreation area, habitat for animals and plants or area for energy production. Multilateral use concepts are still missing.
This research project focuses on the combination of all named usages: new synergies between roof greening, energy production by photovoltaic and usability for the recreation and retention of stormwater shall be found, by combining green roof technology and translucent photovoltaic panels. This synergy allows plants to grow, produce clean energy and give shadow to users of the roof at she same time. The plants evaporation improoves the microclimate on the roof and help to reduce the urban heat island effects in summer.
To develop the Photovoltaic Greenroof Systems following steps have been done during the project: Comprehensive analyses regarding user's needs were done by interviews. Various light scenarios were simulated.
Our part in this project was the testing of different types of photovoltaic panels (with different transparency) to find the right level of transparence to grow plants under it. Indicator plants for Urban Farming and ornamental plants are tested.
Solutions to integrate rainwater management to the system are in development. Those tasks were the basis to create architectural concepts, and to design a general module for the Photovoltaic Greenroof System. Further a cost-benefit-calculation will be done.

The 'Photovoltaic – Greenroof – System' offers a variety of opportunities for architects to develop new solutions to turn bare roof surfaces into livable, fertile and usable areas that also produce energy.
For further information: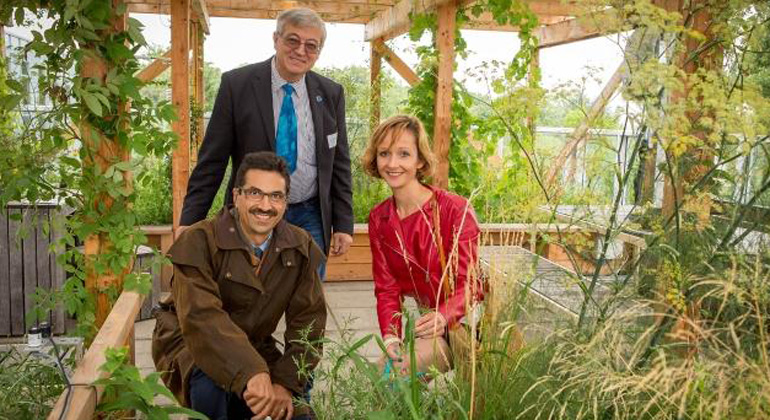 Source
University of Natural Resources and Life Sciences, Vienna 2015